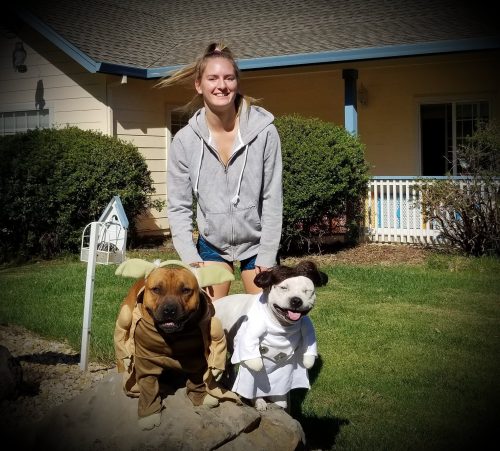 Welcome to Shasta Staffords & Dobermans! 
We are a small animal-loving family in Northern California. It is just Al and me at home now, as both of our girls have recently finished college and are off doing great things! We are proud of the kindness of both Chelsea and Grace and the work that they do to benefit others. I believe that their goodness is directly related to having, from birth, experienced the love of many great dogs (and cats, bunnies and hamsters) and from the blessings of years in  4-H and the annual joy of the Evergreen State Fair. Both girls were also involved in AKC junior handling and, after 20 years with Dobermans and rescue dogs, just prior to moving to California, we sought a smaller breed for showing that could also keep up with our Dobes. We found the perfect breed and, absolutely the perfect specimen of that breed, in our precious GCHB Trugrip Rockin Snow Belle, Shaq, our foundation in Staffordshire Bull Terriers-mother of 4 AKC Shasta Staffords Champions and, now, several grand-pup Champions, two of whom are residing right here with us.
We are not a kennel and all of our dogs live with us for a lifetime.  I consider myself to be a "hobby breeder" which, in my opinion, denotes the most ethical and dedicated of breeders.  As a Hobby Breeders we:
Health test all breeding animals

Extensively study the pedigrees and honor breeding as both a science and an art

Show any breeding dogs in the show ring to prove worthiness

Only breed when we believe that we are making a positive contribution to breed overall in terms of health, temperament, structure and conformation to the AKC standard.
Our puppies are in homes second to none and we are humbled, honored and grateful for these wonderful individuals and families who have entered our lives because of the joy of dogs!
Please enjoy this Website and feel free to contact us anytime,
Corrinne
Staffordshire bull terrier breeder California
Staffordshire Bull Terrier Puppies